Workshops and seminars can be hard on your voice. And as a seminar leader, your voice is your bread and butter.
When I was attending a webinar by my friend, Melanie Kissell recently, she mentioned some ways to get your voice ready for a seminar that I had never heard off.  So naturally, I invited her to come over to my blog and enlighten us.  And boy, did she come through!
Speaking Tips:  7 Ways to Improve and Soothe Your Voice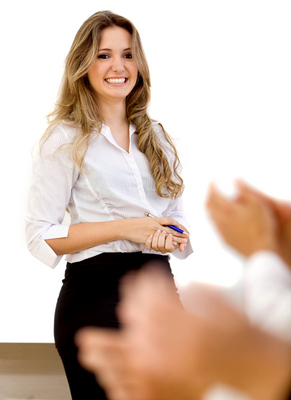 Your voice is a valuable and delicate instrument.
You'll want to keep it finely tuned as if you were a pianist who must keep her piano tuned.
"When you think voice, think variation in pacing, volume, tone, and emotional feel. Variation provides interest and keeps attention as you orchestrate your message to the heart, to the head, and to the funny bone." ~ Terry Paulson
Although humorous, here's what you DON'T want people saying about your voice:
A voice like a concertina that had been left out in the rain – Max Beerbohm
A voice like a coyote with bronchitis – O. Henry
A voice that could have been used for paint remover – Raymond Chandler
A voice you could have cracked a brazil nut on – Raymond Chandler
Before you step in front of your next seminar audience or prior to hosting your next virtual event, gather up some tried and true techniques for putting your best voice forward.
Ways To Improve And Soothe Your Voice:
1.) Don't drink like a fish — drink like a whale! (And we're not talking alcohol here) Keeping your vocal cords wet is an important part of improving them. Drinking at least 64 ounces of fluids spread throughout the day will keep your voice lubricated.
The voice likes wet and warm – don't drink ice water, drink tepid water.
2.) Fatty foods compromise voice quality. Although stereotypes suggest heavier people have better voices, it's a proven fact regular exercise improves the health and quality of your voice.
3.) To comfort a fatigued voice, many professional speakers choose to drink honey and lemon in warm water. Warm peppermint or chamomile tea with or without honey can also be very soothing to the voice. The natural peppermint will give you energy and the chamomile will calm you.
If you are under the weather, rest your voice.
Don't strain your voice. Use a microphone, if possible.
4.) Can't make it to the gym? No worries. Exercise your voice from the comfort of your home. Most of us are aware of the importance of exercising the body but few people realize the voice needs exercise, too.
Doing a few minutes of simple warm-up exercises can increase your vocal power, variety, range, and fitness and dramatically improve the overall quality of your presentations.
Make as many funny faces as you can to exercise all of your facial muscles and massage other tense areas like your temples, forehead, eyebrows, and scalp.
Yawn a few times to open up the back of the throat.
Hum — holding any pitch for 10 or more seconds feeling a tingling sensation around your lips and nose.
Flap your lips making a "Brrrr" sound. Start on any pitch. Then go up and down your vocal range.
Vocalize on an open "Aah" sound going up and down your range.
Sing or hum any song that uplifts or inspires you!
5.) Good Foods to Eat Before You Step Up to The Microphone:
Honey
With its antiseptic and anti-inflammatory properties, public speaking experts tout honey as a soothing remedy for rough, scratchy throats. Vocal cords are delicate structures and even the slightest injury can have serious consequences for your voice.
A Light Meal of Whole Grains, Protein, Fruit, and Vegetables
It's important to keep your body nourished so you'll have the stamina and spunk to make the most of your moment in the spotlight! Chicken, fish, eggs, and rice are suitable to eat before a speaking engagement. A couple of slices of green apple and vegetables are also excellent choices.
6.) Foods to Avoid Before Your Next Speaking Gig:
Caffeinated Drinks
Caffeinated drinks are a no-no due to their tendency to cause dehydration, which can leave the mouth, throat, and vocal cords dry and parched. They can also aggravate acid reflux.
Dairy Products
The consumption of dairy products can increase mucus production which can lead to excessive throat clearing — a process that can injure the vocal cords.
Carbonated Beverages
Fizzy drinks can also promote acid reflux and negatively impact the voice.
Citrus Fruits
Fruits such as oranges and grapefruits can dry out the lining of the throat.
7.) Voice Production Tips from Keith Davis, my dear friend and phenomenal Public Speaking Expert:
Breathe from the diaphragm – "belly breathing". Breathe in and belly goes out, breathe out and belly goes in. Practice breathing out by blowing out gently.

Resonance – say MMMMMMMM and feel the vibration around your "mask" area, nose, mouth, and eyes. Then try and keep that resonance / vibration as you speak.

Don't increase volume by shouting, rather increase the resonance. Resonance gives power shouting gives you a sore throat.

Make sure that you bend your knees slightly – don't lock them. Try this: Stand and speak with knees locked then kneel forward slightly and feel your back and neck adjust. Locking your knees pushes out your stomach.

A good exercise: Stand up and start walking whilst reading your script. At each punctuation mark, comma or full stop, change direction and hear your voice change. The RSC do that in their training.

Practice saying PTK, PTK and BDG, BDG. Makes you move your tongue from front to middle to back of your mouth – speed it up, faster, faster.

Move your tongue quickly with: tip tapity tip tap tip, tip tapity tip tap tip, tip tapity tip tap tip.
And finally …
Your voice is most beautiful when its sounds come from deep within your authentic self. Your voice may not be perfect, professional, or even what others call "on pitch" and that's okay.
To really WOW your audience …
Give yourself the green light to let your inner voice roar!
Melanie Kissell is a single mom who is keenly aware of what it's like to have a BIG supply of expertise and passion and a SHORT supply of time and money to build a business. She guides solopreneurs in being able to say "Too-da-loo" to confusion and chaos, "Bye-Bye" to a long learning curve, and "Hello" to building a business on a shoestring budget!
Speaking Tip from Daphne
Now that you have your improved and soothed your voice, be sure to put it to good use!. You can get more speaking gigs when you have a powerful Speaker One-Sheet. These customizable speaker one-sheet templates make it super easy to create your own speaker marketing materials and updating them takes only minutes!
Check them out here. Then create your beautiful one-sheet, get more speaking engagements and fill your workshops.